HPP is going to be a company that people know and remember for the rest of their lives. HPP is going to be a company for which you are proud to be a part. HPP will change the lives of many in a very positive way. It will provide more excitement to the general public than provided before. It will provide an advertising platform that is unmatched and HPP will completely change your life. HPP is coming, and it is coming in a big way!
W-9 Forms needed to pay Investors:
Investors are asked to use the link provided and complete the W-9 Form. This information is required to pay all investors their double investment and continue to pay monthly dividends. I have included a few additional questions so we can match our records to yours to assure accuracy. Please print the form, provide all information requested, then send to:
HPP
208 Dishman Ln. Suite C
Bowling Green, KY. 42101
Link to W9 Form:
http://www.highpoweredpromotions.com/update/w9_form.pdf
Affiliate marketing:

Once the Bingo Beta Test begins, and all necessary information is obtained, we shall create a Town Hall Meeting and build the right program for HPP and the affiliate marketers. My current stand on the bingo affiliate program is this: Having your affiliate list or network increased, makes your network more valuable. What better way to increase your network size than to invite people to play free bingo for huge prizes. I believe that the current affiliate program in place, not only provides this, but also has a very lucrative pay structure. On one hand, you can make more than $50,000 just by referring 10 others to play free bingo or poker. Our affiliate program pays for 5 downlines, allowing for huge earnings from a small amount of work. On the other hand, you can literally name your paycheck. If you need $3000 every month then all you need to do is find a way to invite 6000 new customers to play free bingo or poker for the richest prize pool in history. I would say the effort needed to achieve that is far less time consuming that just about any other job out there. It could be done in as little as a few hours a day, thanks to the power of todays social media outlets. On top of your $3000 paycheck, just imagine the earning potential from the downline program.
HPP headed in a new direction
The definition of a fool is someone that does the same things over and over, expecting different results. With this lesson strongly on my mind, I keep looking for a better way to do everything. To that regard, I found the missing pieces. I was so excited to report to you in the last update about the addition of a VP of Operations, a CFO, and a CTO. We have recently added a Board of Directors, who are very experienced and are well-connected business people!
Mark M. Zettl, President and CEO, MMZ Associates, White Plains, New York
MMZ, a privately held global insurance brokerage, serves the needs of companies with tailored insurance and risk management products and programs. MMZ's business plan is based on exceeding discerning clients' expectations with superior business insurance programs, products and services. Mark Zettl attended the Saint Johns University School of Law in Jamaica, Queens, NY where he completed Course of Study for Reinsurance Law, Insurance Law, Insurance and Risk Management, Insurance Claims and Disputes. He also attended University of Miami School of Business, Coral Gables, Florida where he obtained a Bachelor Degree of Business Administration. Marks professional designations and achievements include: Licensed Life, Health, Property and Casualty Insurance Broker Sr. Advisor C.N.A. Insurance Co. National Advisory Council 2009-2011 Sr. Advisor Trans America Insurance Group. National Advisory Council 1994-1996 Consultant Global Affinity Customer Insurance Programs Volvo Group 2010 Current Expert Witness; Insurance Brokers Errors and Omissions (Insured vs. Broker)


George Andrews III, President and CEO, Andrews Foodservice Systems, Pueblo, CO

George oversees corporate affairs, directs the administrative and operating resources of the corporation and provides on going support and expertise to all management personnel for establishing corporate goals, objectives, policies and procedures. He is responsible for the implementation of Andrews Foodservice Systems growth strategies and objectives through the development of new markets, diversification and acquisition. George holds a B.S. in Business Administration and has been in his current position since 1995. As a result of his leadership, Andrews Foodservice Systems has progressed into the 21st century as a strong, viable entity seeking new challenges and opportunities with eager anticipation.
Kevin E. Gallacher, CLU, ChFC Principal Gallacher Capital Management, Denver CO.

Kevin founded GALLACHER CAPITAL MANAGEMENT in 1991 after three years working for a multi-national financial services firm. He specializes in wealth management strategies for individuals and closely held companies. Kevin serves as managing principal of the firm and is noted for his easy manner, as well as his knowledge and experience in creating strategies for complex financial and business matters.
To meet the growing demands of the elaborate planning marketplace, Kevin maintains up-to-date information on current topics and has surrounded himself with associates who maintain the same discipline and drive for excellence. Kevin earned a golf scholarship and attended the University of Texas-El Paso where he graduated with a major in Finance & Accounting. He continued his studies with The American College, completing his Chartered Life Underwriterdesignation (CLU), as well as his Chartered Financial Consultant (ChFC) designation. Kevin is a member of the National Association of Philanthropic Planners (NAPP), the National Association of Insurance & Financial Advisors (NAIFA)and the Society of Financial Service Professionals (SFSC).
Kevin is securities registered (Series 6, 7, 24 and 63) with LPL Financial, a full-service broker/dealer and member of FINRA and SIPC. Kevin holds state insurance licenses for life, accident and health.
HP3:
After finding just the right people to lead us in the right direction, an evaluation of our company was done and recommendations made. One such recommendation is a platform called HP3. Howard, our CTO has prepared a draft report of HP3 and it has been uploaded to the internet for your review.
---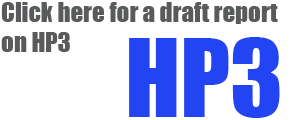 ---
The size and scope of what we are trying to achieve require us to have certain things as part of our foundation. HP3 is just one of the things that we need to have in place before going live with any of our ventures. All of these important foundation pieces are being put in place and will insure we are cutting edge and the leaders in our specific fields.
Bingo:
We will begin with the most exciting bingo events anyone has ever held. Huge prize pools, engaging games, money generated for worthy charities, and all for free. On March 4th, 2013 High Payout Bingo will launch into Beta Test mode and expose our company to the world for the first time. Even with a small Beta Test program enough money can be generated to pay all ongoing expenses and repay many of the investors every week. While the Beta Test is ongoing our staff will be working behind the scenes building an amazing bingo game with state of the art technology and all the flexibility we need to do anything we want like brand cards, prizes, or even whole games, provide virtual goods as prizes or awards, and conduct any type of game we desire. The foundation of this new version of software will not be flashed based and will work perfectly on all platforms including tablets and smart phones. The time it will take to complete is 3 months, provided there are no interruptions. There will be two things constantly interrupting this work, so it may be take up to 4 months before it is completely ready. At that time, our new version will be released to the beta testers. They will be thanked for their efforts and rewarded with an amazing bingo program. Once we are comfortable that the new software can handle all the limits and loads, we will go live with the greatest bingo venture ever launched.
Yiggiy Auctions:


I absolutley love this venture and I cannot wait till it goes live. There are so many exciting things about this venture and it stands a real good chance at being a game changer for many. All investors in the venture will be millionaires, all affiliate marketers who put effort into getting us bidders will find it very easy to generate as much income as they want and maintain it, and many worthwhile charities will find it a true blessing as it provides them much needed funds. This of course all depends on the popularity of the site with bidders. To make it exciting and popular with the general public we have done the following things that are different than any other penny auction.
1.) Incorporate a huge charity aspect so even losing bidders do not feel like their time was wasted
2.) Offer a bonus game to the losing bidders.
3.) Offer options for obtaining all the free bids they want.

The software that was developed for us is not up to the standard we need. Howard has rejected the software and found us much better software that is built on a solid foundation. There are customization needs for this software and once we get the customization done we will have exactly what we need for Yiggiy Auctions. Once we have Bingo up and running Howard can focus the majority of his attention toward getting Yiggiy complete and up and running. At that time Howard will be able to provide us with a timeline for this.

The Charity Aspect: With 100% of all auction sales going straight to charity with no strings attached we will be able to satisfy the need to help others in all our customers. But the help does not stop there. They can also make direct donations to charities to get bids, and when they win in the bonus game their favorite charity wins as well.



The Bonus Game:


If you have a playstation 3 you should get the Buzz Quiz game. Our bonus game will show a very entertaining commercial then ask a trivia question about the commercial. Making this game fun and exciting is crucial to the success of the entire design of Yiggiy. The trivia portion of the game will be a cross between Buzz Quiz game and the game (You Dont Know Jack). It will be hilarious and addicting and with the huge prizes you can win ($100,000 every year for the rest of your life by defeating only 78 other players) we expect people to want to earn a spot in the game as often as they can.


Yiggiy Bonus Opportunity:

There have been several requests from many of you who would like to know if we would lower the minimum to get into Yiggiy. We can't really do that at this point because of the way the investment program is structered. What we can do however, is give everyone a chance to get a share of Yiggiy for only $100. Here is how it works:
People will send in their $100 and one out of every 10 will receive a share of Yiggiy Auctions. This share will provide over a million dollars every year for the winner. The winners will be drawn two weeks from today and I will have a countdown page prepared as well as a live drawing and all winners posted. For those who send in $100 and do not win, you will receive a "Yiggiy Bond" worth $200 so you will get your money doubled. This will insure everyone wins and many will get a share of Yiggiy for only $100. To participate just get with Amie and she will take care of everything. We are developing a sign up page for everyone and that should be out in a few days. You do not have to wait for this to be done to participate and you can secure as many bonds as you like, increasing your chances and providing double return within a year or less.



CRG:


CRG is being shown to millionaires in an attempt to raise the funds to re-pay all our investors double much quicker than we will be able to with our other ventures. Million dollar deals take a lot of time and effort and there is really no way of knowing how much time or effort untill they are done. I have taken what makes CRG so valuable and developed another program which will work now, and will produce the funds needed to not only payback all investors but it will greatly speed up the process of selling CRG. It will take me 4 months to get everything in place and another two or three months to get all the funds needed to re-pay EVERYONE. This will now be our worse case scenerio. All investors should be re-paid double in the next 6 months, some from Bingo, some from CRG sales, and the rest from the new program. I will be providing more information about this new program as we get closer to having it developed.



Poker


Poker is going to be stronger than it would have been if launched first. Our goal is to be white listed by all CPA companies prior to launch because of our efforts with Bingo. This will be huge for the launching of High Payout Poker. All of the details of the affiliate program will be complete by then. Even though Poker is currently on the back burner it is not far from launching. Once we have Bingo up and running we will be focusing on both getting Yiggiy completed and on Poker getting launched.



In Closing


I have not been this excited in a long time. I am confident that bringing in Howard, David, Jacque, The new Board of Directors, and other key personel is putting HPP on the right track not only to success but to huge success. Everyone that has and is currently working with HPP has done their absolute best. The difference now is that we have experts who know what we need, how to get it, and are doing just that. No more missed deadlines, no more delays, no more issues from developers. Finally we will have the type of software we need to be leaders in the industry.
We will be adding two more people to the Board of Directors and we have two in mind. One is a Sr. Partner in a top 10 law firm and the other is a CEO of a National Printing Company in CA. The Board of Directors are going to be a steering committee that we will be there to bounce business ideas off of. They will offer direction of the company, but will not be controlling the company in any way. They also have various connections within the business community that may be able to help HPP in certain functions when needed. Two weeks from today at noon we will do the Yiggiy drawing and later that day the next update will come out. After these next two weeks I will be changing from updating you every two weeks to updating you every week. I will also monitor the chat room for the next couple of days to answer any of your questions. All investors who would like to be or are a part of the HPP Company chat room please email David Ponx at ponxy@aol.com to confirm the following - Skype Name and Investor name from the back office. One last thing I want to mention in case any of you are still confused. If you have referred anyone to invest in any venture at any time you WILL be receiving a referral bonus. Thank you all for everything you do and have done, I really appreciate it very much.
God Bless
Phil